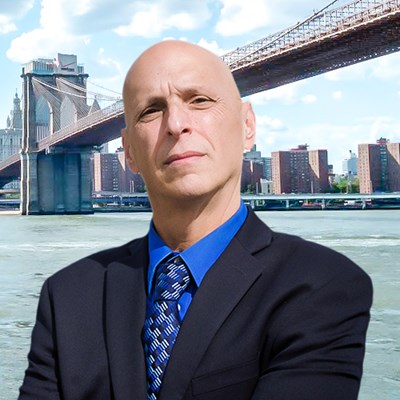 I was born and currently reside in Brooklyn, New York. I am married and have one son.  When I'm not working I try to spend as much time as I can in the great outdoors.  I have hiked extensively throughout the Northeast.  I'm a member of the Catskill 3500 Club, every member of which has climbed on foot each of the 35 Catskill Peaks higher than 3,500 feet in elevation.  I have also earned the winter badge from the Catskill 3500 Club for climbing all 35 Peaks in the winter.  I have climbed 37 of the 46 Adirondack High Peaks, and have hiked over 500 miles of the Appalachian Trail.  I'm also a runner and member of the New York Road Runners.  I have completed  the Brooklyn Half Marathon 4 times, the Bay of Fundy International Half Marathon and the New York City Marathon twice. 
I became a lawyer so that I can help others. Early on, I decided to establish my own law firm, so that I could practice law in the way that I thought it should be practiced. Clients should be treated with respect, and that it was my job to resolve each client's problem quickly, inexpensively and in the least stressful manner possible. I think of our clients as our extended family. In fact, I have known many of them for more than 25 years.
I attended the New York City public schools. graduating in 1972 from John Dewey High School, which is located in Brooklyn. After high school, I briefly attended Brooklyn College, but left and started a successful landscaping company in Brooklyn and Staten Island.  After a few years, I returned to college, and, in 1980, I graduated from the College of Staten Island with a Bachelor of Science in Economics with Highest Honors. I  received a certificate in Environmental Management from SUNY Purchase in 1982.  In 1983, I graduated from Pace Law School in White Plains and also earned a certificate in Environmental Law.    In 1983 I was admitted to practice law New Jersey.  In 1984, I was admitted to practice in New York.  In 2016, I was admitted to the Bar of the United States Supreme Court.
From 1984 to 1985, I was a partner in the law firm of Peltz & McSweeney, which was located in Fair Lawn, New Jersey. I returned to Brooklyn in 1986 and established the law firm of Jeffrey B. Peltz, P.C. at 26 Court Street. We are still located there. Since my law firm was established, we have helped more than 20,000 clients with legal matters involving accidents, bankruptcy, divorce, family law, immigration, real estate, wills and estates.
I am a member of the American Bar Association, New York State Bar Association, the Brooklyn Bar Association, and the National Association of Consumer Bankruptcy Attorneys (NACBA). In addition to New York and New Jersey, I am also admitted to practice law in the United States Supreme Court, Federal Courts of New Jersey, the Eastern District of New York, Southern District of New York, and the Northern District of New York.