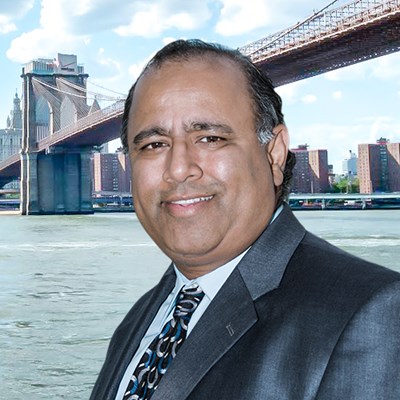 I was born in Madras, India, and immigrated along with my family to the United States in 1972. Since coming to the U.S., I have lived in New Jersey. I am married to a wonderful woman, and am the proud father of twin daughters. During my spare time, I am active in sports and outdoor life. In addition, I coach my twin daughters' soccer, basketball and softball teams.
As an attorney, I see myself as an analytical problem solver. I am here to solve our clients' problems and to put them at ease. Over the years, with the law firm of Jeffrey B. Peltz. P.C., I have been honored to serve thousands of clients. Many have referred their friends, family and colleagues to us. There is no higher complement than that. I have been with the law firm of Jeffrey B. Peltz, P.C. since 1996.
I graduated from Rutgers University with a Bachelor of Science in Biochemistry in 1990. In 1993, I received my Juris Doctorate from the Turo College, Jacob D. Fuchsberg Law Center, located in Central Islip, New York.
I am admitted to both the New Jersey and New York Bars. In addition, I am admitted to practice law before the United States Supreme Court, the United States District Courts of New Jersey, Southern District of New York, and the Eastern District of New York. I am also admitted to practice before the Immigration and Naturalization Service. I am a member of the National Association of Consumer Bankruptcy Attorneys (NACBA).
Among the areas that I practice are: bankruptcy, matrimonial law, family law, immigration, wills and estates, corporations, personal injury, real estate and elder law.